Netflix is all set to release a documentary on K-pop girl group BlackPink. The documentary will cover the rise of the group, their journey as K-pop Idols, never seen before footage and their collaborations with American artists like Lady Gaga, Dua Lipa and Selena Gomez. Ice Cream (feat Selena Gomez) MV had gained more than 203 Million views just within a week on its release! The song also debuted on Billboard Hot 100 at number 13!
Let's catch up with 'all about BlackPink'!
The quartet first gained attention in the international scene with their catchy number Du Ddu Du Ddu. BlackPink has gained attention in the American media with their performance at Coachella in 2019. They are the first K-pop group to have performed at Coachella. Their song How You Like That gained more than 100 Million views within a month of its release. BlackPink also featured on the bilingual song Sour Candy with Lady Gaga. The song appears on Lady Gaga's latest album Chromatica. BlackPink have also featured on the song Kiss and Make Up with Dua Lipa. They sang in Korean and English.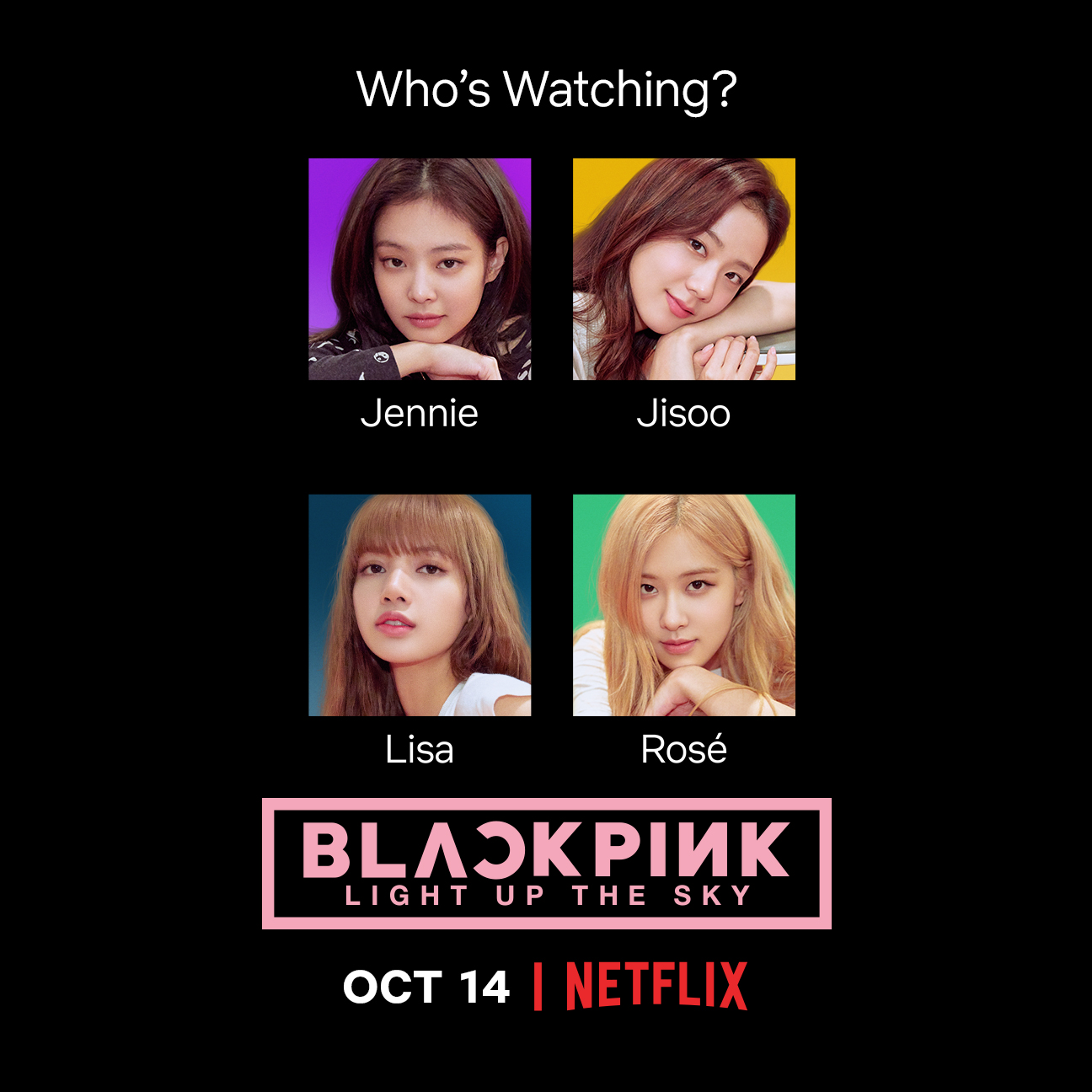 image credits – Netflix Twitter
What is the documentary all about?
The documentary on BlackPink is titled BlackPink: Light up the Sky. It is set to release on October 14. The documentary will follow their first full length studio-album, The Album which was released on October 2nd. The album featured two singles How You Like That and Ice Cream along with some more new tracks such as Love to Hate Me and the title track Lovesick Girls. The documentary will be directed by Caroline Suh who is known for Netflix's Salt Fat Acid Heat. It will be produced by Radical Media, with Jon Kamen, David Sirulnick and Zara Duffy as executive producers and Cara Mones as the producer.
BLACKPINK: Light Up the Sky — an all-access documentary about one of the world's most popular groups — premieres in your area on October 14!

Oh and that's not all … on October 14, these music icons will also become Netflix profile icons pic.twitter.com/b9t00VnEMO — Netflix (@netflix) September 9, 2020
Netflix had hinted about such a documentary back in February 2020 which had created a lot of excitement amongst Blinks, the group's fandom. Netflix had not disclosed any details about it back then. BlackPink's documentary will be placed amongst documentaries on other popular figures in the music industry such as Beyonce, Taylor Swift, and Lady Gaga. Netflix also announced that the member's photos will also become profile icons on Netflix! With the release of the documentary, BlackPink will finally be in your area (and Netflix Watchlist)!
BLACKPINK IN OUR AREA!

A gentle reminder that the BLACKPINK documentary arrives in 8 days!

— Netflix India (@NetflixIndia) October 6, 2020
The documentary will be released on the Indian platform as well! The trailer looks promising! Blinks, keep your tissues ready! Till the documentary arrives, let's watch the trailer and the exclusive photos from the documentary.
BLACKPINK: Light Up The Sky — FIRST LOOK: pic.twitter.com/jzA3lFRJbY

— Netflix Queue (@netflixqueue) October 6, 2020
BLACKPINK IN YOUR AREA!