Netflix is all set to give us some corporate romance alongside nostalgic coming-of-age drama, with women having a mid-life crisis yet very content to be together. With some unexpected pairings like Song Kang and Park Min Young in Forecasting Love and Weather, Business Proposal's pair Kim Sejeong and Ahn Hyo Seop, Kim Taeri and Nam Joo Hyuk in Twenty Five Twenty One, and the #39 trio of Son Yejin, Jeon Mido, and Kim Ji Hyun, Netflix is already making us swoon over these remarkable actors. Here are a couple of upcoming K-Dramas of February for your Netflix watchlist.
Upcoming Netflix K-Dramas In February:
Forecasting Love and Weather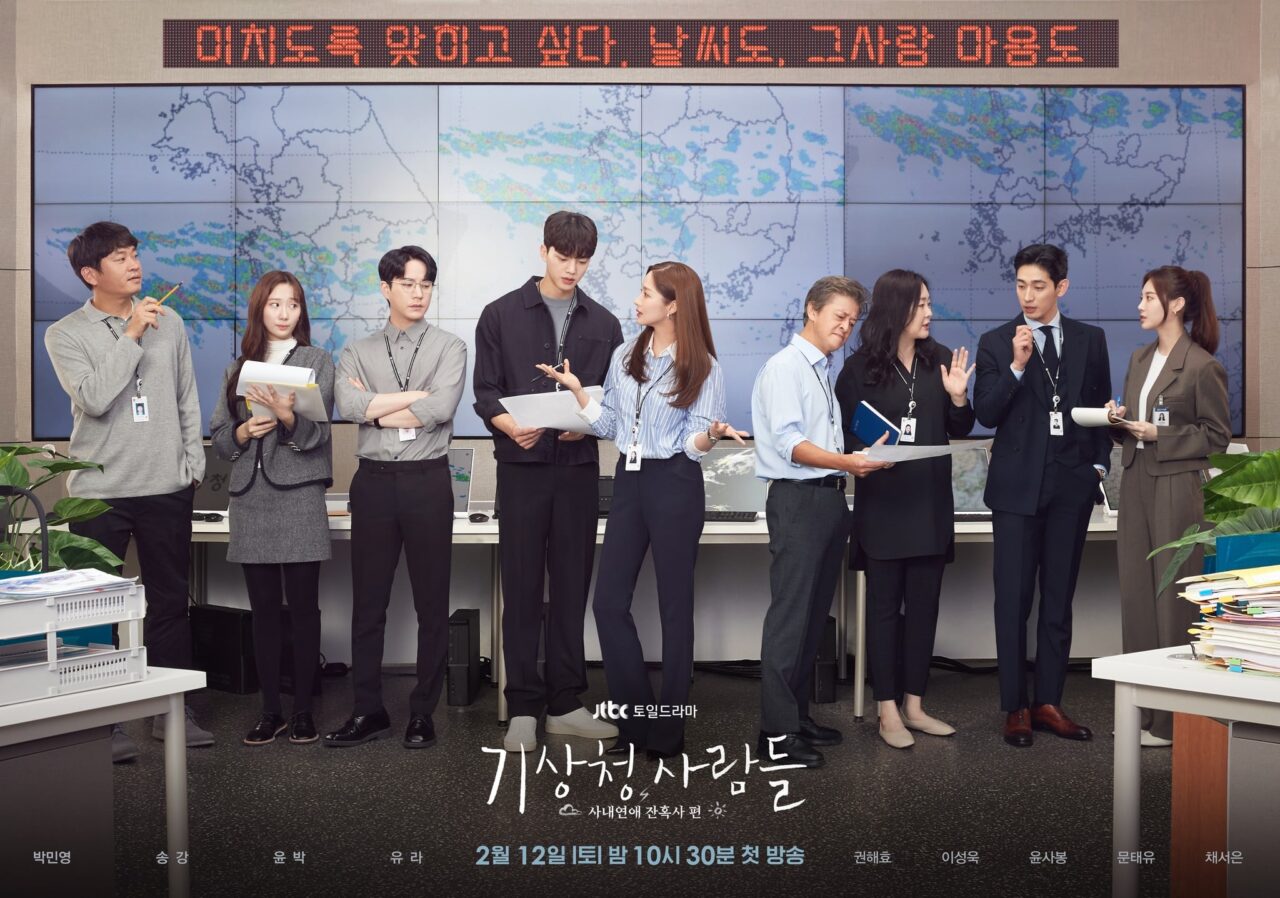 Park Minyoung is back in the office as a diligent perfectionist who is highly motivated when it comes to forecasting weather for South Korea. Song Kang meets Park Minyoung as a subordinate who is expected to go the extra mile and produce the best results as a forecaster for the Korea Meteorological Administration. The trailer teases the endearing vibe between the two given the meteorological wordplay: "Just as the cold air suddenly meets a mass of warm air, you and I have met with our differences." If you are someone who swoons over 'Something in the rain' and 'She would never know', then Forecasting Love and Weather is another one to add to your list. Screenwriter Kang Eun Kyung and Director Cha Young Hun, who are known for some astonishing dramas like 'Dr. Romantic', 'The World Of Married' and 'Uncontrollably Fond', 'When The Camelia Blooms' respectively are joining hands for this show. The drama will be available exclusively on Netflix on February 12th.
Business Proposal
Shin Ha Ri (Kim Sejeong) gets in trouble while covering up for her friend on a blind date when she realizes that her date is her boss. Ahn Hyo Seop is the model chaebol of Kang Tae Mu, who is compelled by his grandfather to get married, so he settles for marriage with his next blind date, who happens to be Ha Ri's friend Jin Young Seo. Watch Ha Ri running all over her workspace to hide from Tae Mu and make an income. How will she get away from this marriage? This 12 episode series is a webtoon adaptation of the same title, which is set to be released on February 28th on Netflix.
Twenty-five Twenty One
They encountered each other at 22 and 18, but unfortunately drifted apart as life had different plans for them in the misery of the financial crisis of 1998. On one hand, Nam Hee Do, played by Kim Tae Ri, is a part of a fencing team that is disbanded due to the financial crisis. On the other hand, Baek Yi Jin, played by Nam Joo Hyuk, sells newspapers after his father's business collapses due to the same. Reunion at 25 and 21 turns into occasions of falling in love for the two young individuals. Twenty Five Twenty One is directed by The King's creator Jung Jee Hyun, it is set to be released on February 12th on Netflix.
Thirty-Nine (39)
Three exceptional actresses, Son Ye Jin, Jeon Mi Do, and Kim Ji Hyun, come together in 39 to portray the mid-life crisis narrative of women in Korea. The trio has been best friends since high school. Son Ye Jin comes from a wealthy family and now runs a dermatologic clinic in Gangnam. Jeon Mido is an aspiring actress who is known for her edgy, straightforward attitude. Single since birth in your late 30s? Well, Kim Ji Hyun is still way too timid to open up for love. 39 is going to be released on February 16th on Netflix.
Juvenile Justice
Director of the masterpieces 'Her Private Life', 'Doctor Stranger', 'Live Up To Your Name'  Hong Jong Chan is back again but this time it is juvenile courtroom drama which is quite contrasting to his previous works. As she handles complex cases in juvenile court, a tough judge balances her dislike of minor offenders with firm beliefs about justice and punishment. This show portrays the dark side of underage kids in South Korea and the crimes they commit due to the state of their minds. Kim Hye Soo is very well known for her role in Hyena, and Juvenile Justice is giving us an upgraded version of Jung Geum Ja from Hyena. It is set to be released on February 25th on Netflix.
Are you excited for Son Ye Jin's comeback drama? or to fangirl over Nam Joo Hyuk? Which of these Upcoming K-Dramas of February are you looking forward to most? Let us know in the comment section below.